$300,000 in an Evening!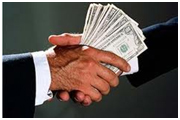 These days if you want to succeed in Real Estate and Make Money FAST, you need a source of real cash to close your deals. And finding private money lenders is the only practical source of cash right now for real estate investors.
And as I'm sure you are aware, getting a bank to fund most deals is a hopeless cause and even hard money lenders are requiring your cash up front regardless of the loan to value. And regardless of what you've heard, there are millions of dollars in private money lenders hands that could find a home in your deal if you do it right.
There's a lot of courses and seminars out there pretending to teach you how to find private money lenders for your deals. How's that worked out for you?
If you still don't have any cash, I'm not surprised. Truth is, most of what you've been told is BS or at least not the whole story.
On this blog, we are going to pull back the curtain, on how real private money lenders invest real money in real estate deals. How do I know?
I'm Professor Richard Odessey, and I am a private money lender in real estate deals, and I and my students have successfully raised private money for their deals. And I guarantee you, that just like Stephan in the video, none of these students would ever use another source of cash again.
So how can you learn to be successful as these students? Simple. We have programs perfectly suited to whatever level of commitment you wish to make. And for whatever option you choose:

You will always be told the Whole Truth
We will only teach you what actually works because these are techniques we and our successful students are using right now in this topsy-turvey economy
We will Never Require a Long-term commitment unless you wish to make one.
So, here are the
OPPORTUNITIES YOU CAN TAKE ADVANTAGE OF RIGHT NOW



14 Questions Private Investors will Ask a Real Estate Entrepreneur… and How to Answer Them

Want to be really prepared to present to investors? How would you like to be able to prepare the best answers in advance and impress the heck out of your private money lender. You'd better be.




Become a Valued Member of the Investor Wealth Network

Want to know how Real Private Money Investors think and How they decide to fund a deal? As a valued member you can listen to interviews with private money lenders and their financial advisors. And get helpful tips and advice on everything from where to find Angel investors to how to organize your private money business plan.




Choose the Elite Membership for Personal Advice and Step by Step Training

Would you like a structured approach to help you put together a soup to nuts plan to raise private money for your deals. Then you'll want to be trained in my proprietary GRAD (Get Ready-Attract-Deliver) formula that is only available in our Elite Membership. As an Elite Member you will also be able to participate in our mastermind where Richard will give you personal advice on your specific challenges and deals.




Private Money Mastery: The Fastest Way Anywhere to Get the Money

This is an intensive 1 on 1 mentoring program with Professor Richard and the CEO of his Angel Investor Group. Starting from ground zero if need be, you'll be in a position of asking private money lenders for the check in just 8 short weeks. This is not for tire-kickers or the uncommitted. Clear your calendar and be prepared to bust your butt. I promise you it will be worth it. We don't take everyone, so